The Financial Industry is changing at an unprecedented pace. A whole landscape of innovative products and new business models has emerged, with Technology as the main driver of such transformation.
MASTER IN FINANCIAL ENGINEERING & FINTECH
Master de Formación Permanente en Financial Engineering and Fintech.
5th Edition. In English. Fully online
Presentation
Master in Financial Engineering and Fintech
This master provides a deep understanding of the technological and quantitative tools that the Financial Industry demands.
PROGRAM OBJECTIVES:
After finishing the program you will:
Understand the new landscape of the financial industry
Understand the new technologies and business models that are reshaping the Financial World
Understand how these tools complement other traditional -formal- methods to analyze financial problems
Be able to implement these technologies in practical problems such as portfolio management, assets' valuation, or risk measurement
5th Edition. In English. Fully Online.
What do we offer?
Master in Financial Engineering and Fintech
TRAINING COMPATIBLE WITH YOUR WORK
This program allows you to make your training COMPATIBLE WITH YOUR WORK thanks to an innovative learning methodology.
SOUND PREPARATION
A SOUND PREPARATION for a total of 60 ECTS credits, which allows covering in-depth all the concepts and applications. No programming knowledge required.
METHODOLOGY
A METHODOLOGY focussed on practice and context, using cases, real situations and technological tools that allow you to learn from the beginning. The master combines prerecorded videos and live sessions with practical cases.
UPDATED CURRICULUM
An UPDATED CURRICULUM, which ensures that our students are obtaining the latest knowledge in line with the trends and demands of Society.
OUTSTANDING PROFESSORS
We have arranged a team of OUTSTANDING PROFESSORS with hands-on experience in the design of Financial Engineering
COMMUNITY AND ENVIRONMENT
We develop a COMMUNITY AND ENVIRONMENT that allows students to keep in contact with the professional sector, with seminars and activities to enrich your training experience.
PROFESSIONAL DEVELOPMENT PLAN
We will help you to design your PROFESSIONAL DEVELOPMENT PLAN to exploit at its most your talent and knowledge.
UNIVERSITY OF ALCALÁ
Study at the UNIVERSITY OF ALCALA, one of the best Universities in Europe.
Length
February 12, 2024 - December 2024
Enrollment open until January 10
Fee
5,900 €
Scholarships and installment payment option available
Candidate profile
Master in Financial Engineering and Fintech
Professionals of the Financial sector who want to get exposed to these new technologies and business models or Graduates of different disciplines, particularly from STEM, who want to pursue a career in Finance
Program
FINANCIAL COMPUTING
R Programming
Data input and Output
Flow Control. Plotting
High performance computing
FINTECH BUSINESS MODELS AND TECHNOLOGIES
Disruptive Technologies in Finance
Business Models
Case uses
DERIVATIVES VALUATION
Fundamentals of Continuous Time Finance
Valuation of Equity Derivatives
Valuation of Fixed-income derivatives
FINANCIAL MODELLING
Foundations of Probability
Linear models for the conditional mean
ARCH models
Nonlinear extensions
ARTIFICIAL INTELLIGENCE AND DEEP LEARNING
Foundations of Artificial Intelligence and Machine Learning
Python Languaje
Supervised learning
Unsupervised Learning
Reinforcement Learning Algorithms
RISK MANAGEMENT
Market Risk
Credit Risk and XVA
Model Risk
QUANTUM COMPUTING IN FINANCE
Quantum Computing Fundamentals
Quantum Programming Workshop
BLOCKCHAIN TECHNOLOGY AND CRYPTOCURRENCIES
Distributed Ledger Technology
Cryptocurrencies
Smart Contracts
Applications to Investments, Real Estate, Banking, and Insurance
ALGORITHMIC TRADING
Market Microstructure
Pairs Trading
High Frequency Trading
MASTER'S THESIS
Independent research paper on one of the topics of the Master to be defended before a Committee at the end of the Master
Lecturers
The professors of the Master in Financial Engineering and Fintech are professionals with hands-on experience in the application in Financial Engineering and Fintech
Tenured Associate Professor of Economics (Finance) and of Computer Science (Artificial Intelligence). Fulbright Visiting Scholar in several US Universities and consultant for several Spanish Fortune 500 companies and for the Government. He has authored more than 100 publications and has lectured in the USA, Asia and Latin America. Director of the Laboratory of Computational Finance and Head of the Chair in Big Data and Predictive Analytics in Banking of the University of Alcalá.
Ignacio Olmeda, Ph.D.
Director
Juan Palomar Burdeus is currently responsible for Market, Counterparty, Structural, and Operational Risk Analytics at BBVA. He is the global responsible for risk model development in the ambits of Market, Counterparty, Structural and Operational risks. He started in 2006 quantitative analyst in Corporate and Investment Banking in BBVA, developing tools to price and hedge exotic equity and FX derivatives. Juan Holds a PhD in theoretical physics.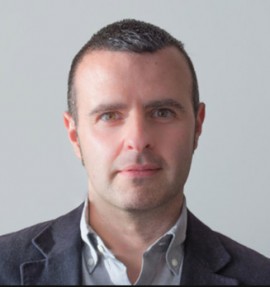 Jacinto Marabel is Head of Europe Equity Stocks Exotic Trading Derivatives team at BBVA. Jacinto has a PHD in Economics and Finance and he has published more than 15 papers in leading international financial journals
Miguel Angel is CIO-Investments Director at Lignum. He previously worked at Ecclestone Partners and Bankia. Miguel Angel is a seasoned Portfolio and Wealth manager. He holds a BS in Business Administration, an MS in Finance and currently he is pursuing his PhD in Cryptocurrecy investments.
Miguel Angel García-Ramos, CFA, Ph.D. Candidate
He is leading the team in BBVA Global Markets that exploit financial data to automate execution and market-making trading strategies. He focuses on how to apply innovative quantitative and computational techniques to spur growth and efficiency in the financial trading business: from the pricing and risk management of derivatives to the development of algorithmic trading strategies and the application of machine learning techniques to financial datasets.
Degree in Economics (Universidad Complutense de Madrid), Master in Economics and Finance (CEMFI 2003-2005), Executive Master in Quantitative Finance (AFI); she also holds a Programme of Management (Instituto de Empresa 2014). She is currently working in BBVA Corporate & Investment Banking – Global Markets (as Senior interest rate volatility trader). Previously, she worked as Interest rate volatility sales in Banco Santander.
Jorge Muñoz is a Fixed Income Senior Trader at BBVA (covering both linear and non-linear payoffs), where he has worked at several positions throughout his career, holding responsibilities in the Trading Floor and QBS areas. EIA by EFPA, Telecommunications Engineer by UPM, Master in Quantitative Finance by AFI.
As a Professor at University of Alcalá, I have 10 years of experience in education participated in several Master Programs in Spain, Latin America and Myanmar. I have been also a researcher for the Laboratory of Computational Finance and worked in different projects for companies such as Repsol and Santander. I have a Bachelor Degree in Business Administration, a Master's in Financial Engineering and I am currently a Ph.D. Candidate, working in the integration of Finance and Technology.
Physics specialized in quantum computing. Joined the Microsoft Quantum Docs team. She is currently working on writing the documentation for Q # and Azure Quantum. She studied theoretical physics at the Complutense University and a master's degree in Quantum Physics at the University of Innsbruck (Austria).
Request Information
Fill this form to send us any query. As soon as possible, we'll contact you.